It has been a crazy 6 weeks!  Unfortunately, I have not done a good job updating my progress on my journey during this time.  So while I try to get caught up to the present, lets take a look back to last month…
December 21, 2013 – Day 218
Many people have asked me how I can endure a 24+ hour journey (mostly in the air) from one side of the world to the other… Well, this is how…
Now boarding…  No no, not the radio show (which you can check out
here
).  Instead I am getting ready to board a flight from Singapore (SIN) to Kuala Lumpur (KUL).  The first of three flights I will endure over the next 36 hours…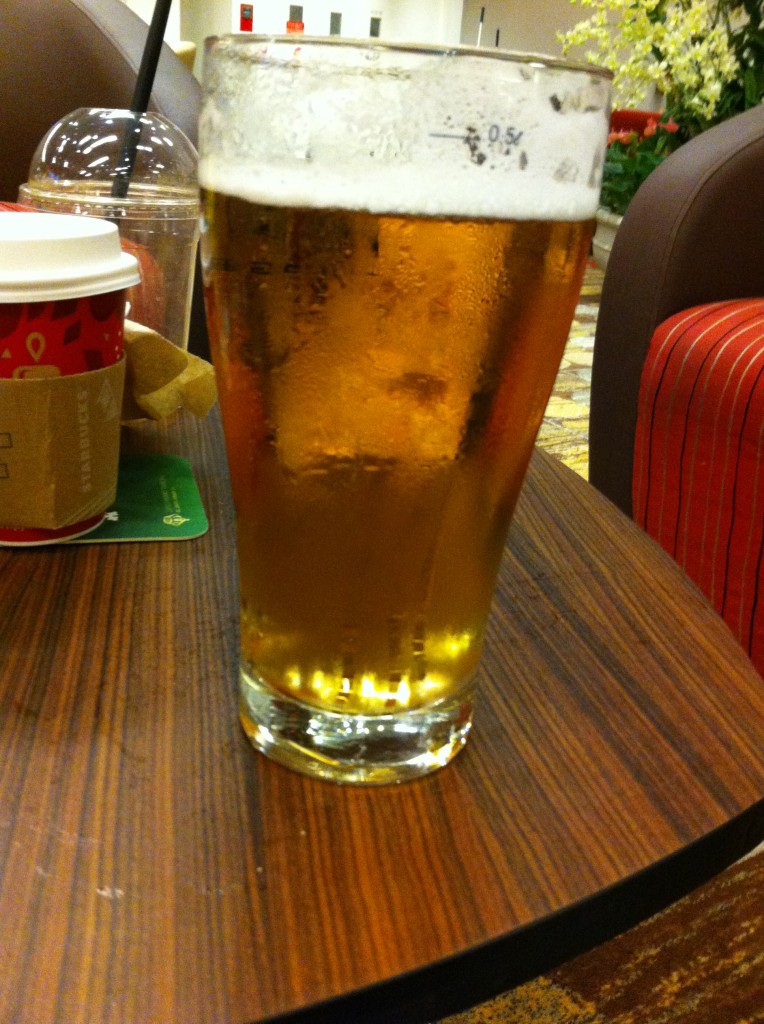 220 days ago I was on a plane from New York's JFK to Singapore.  Not many thought I would last this long here.  Most, including myself, thought I was the first person to experience a mid life crisis at the age of 26.  You see, I had an opportunity to fulfill a lifetime goal, but the risks were far greater then the potential rewards.
Here I am 220 days later… The lifetime goal has been fulfilled.  Surprisingly the rewards were far greater then I could have imagined… I'm not talking about the salary of my current job.  I'm talking about the friends and colleagues I've met from all over the world!  I was able to develop relationships where I never thought possible!  Experience different cultural views I may not have understood if I didn't make this jump.
Well, it's now time for takeoff!  Buckle up your seat belts and put your seats and tray tables in the upright position!  This is only the first flight!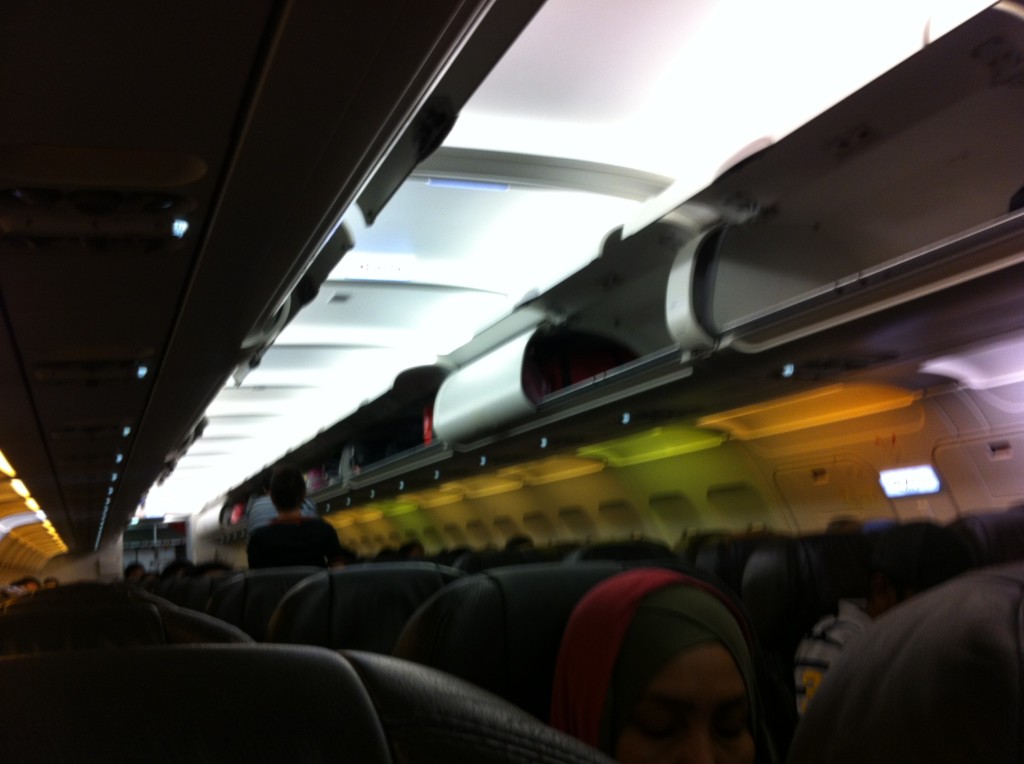 After a quick 20 minute ascent to 30,000 feet and 10 minutes of relaxation, it was time for the decent.  20 minutes later I am in Kuala Lumpur.  The second destination on the trip I took last February.  Unlike that trip, I will only be in KL for a few hours.
To make this trip even longer I had to go through customs in KL and pick up my checked bags.  I had to add this hassle to my itinerary because I booked this flight separately and with a different airline (Jet Star) then my two upcoming flights (Etihad).  There are ways around this, but I would have had to deal with their transfer counter and the likelihood increasing significantly of my bags being lost in transit.
I easily made it through customs and then through the airport to the airline check-in counters.  While I waited for the check-in counters to open I grabbed a bite to eat.  Some beef redang… Tasted pretty good!  After that it was on to the Etihad Airways check-in counter!  Passed the security screening and immigration patrol.  A few rum and cokes at the airport bar and I was boarding the second (7 1/3 hour) flight to Abu Dhabi.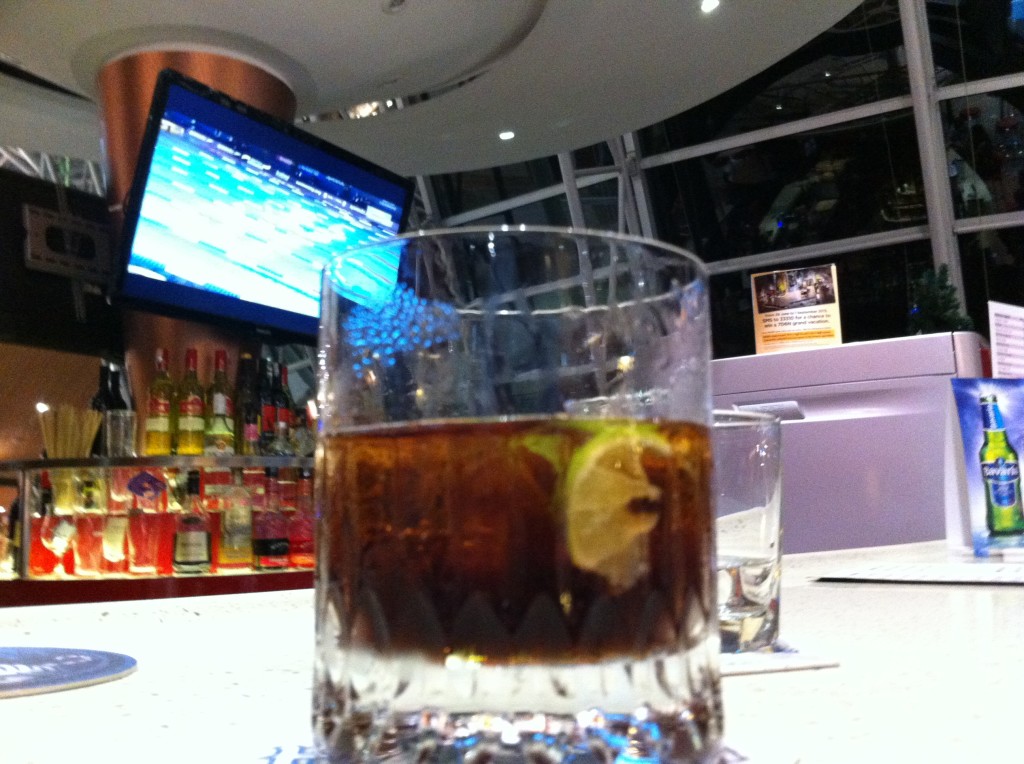 After reaching cruising altitude it was time to consume a few more alcoholic beverages (STEP 1).  This time in the form of Heineken 330ml cans.  Along with 38 songs on my recently downloaded playlist entitled "20-12-13" (STEP 2).  I know… Maybe too much thought into that title.  Anyways, it was the perfect combination to get me fired up for my return to New York.  After exerting all my excitement I fell asleep for a few hours (STEP 3).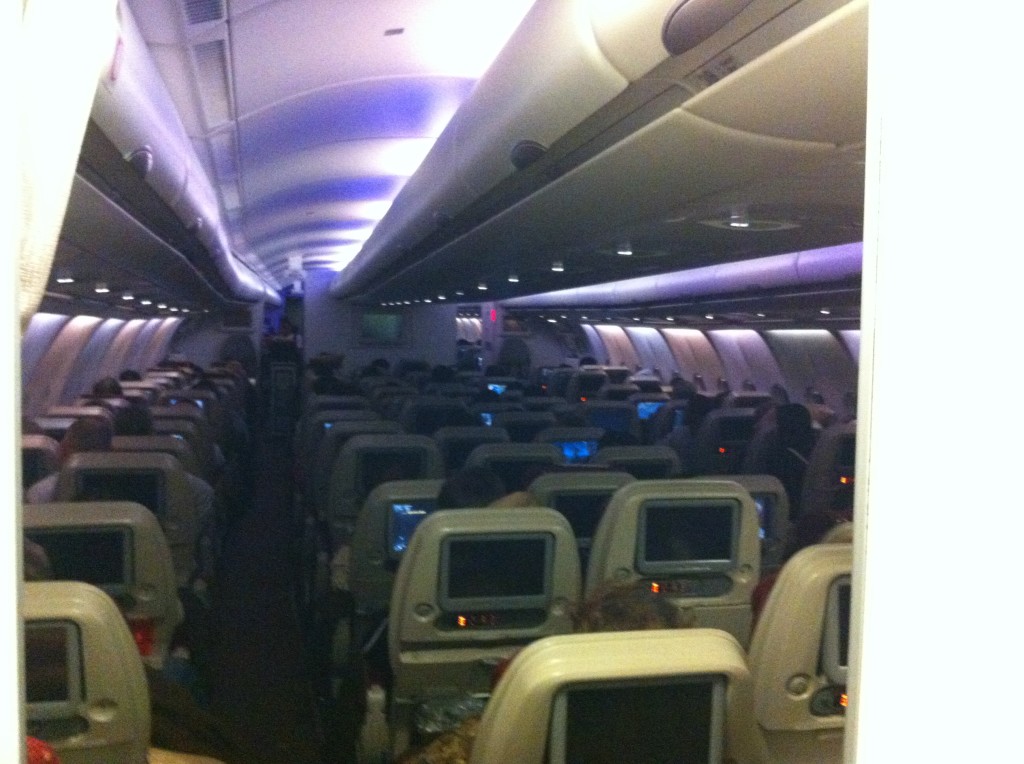 More then enough time that when I woke up I was only two hours away from landing.  Two hours is a piece of cake!  Before I knew it I was touching down in Abu Dhabi.  There was no gate to great me, but instead stairs down to a bus, which would take me to the terminal.  No problem with me!  This means I actually was able to step foot on Middle East soil for the first time!  Although I will not count Abu Dhabi as a place I visited because it was only a layover and I was not able to leave the Airport (insert sad face here).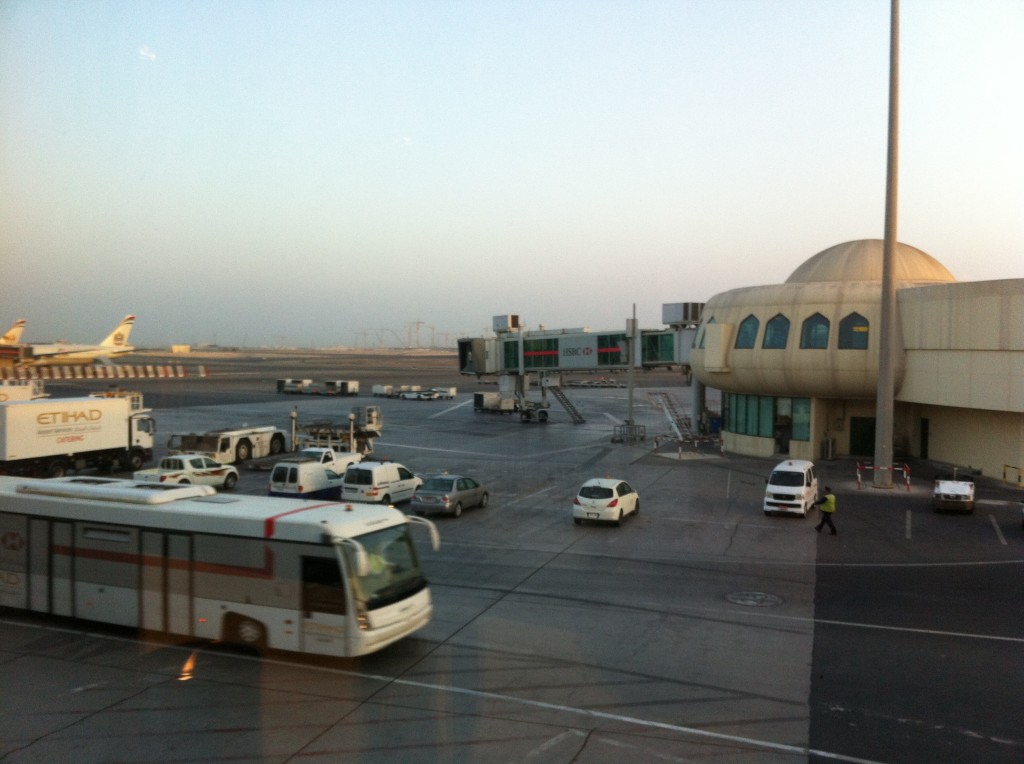 I had a four hour layover in Abu Dhabi.  During this time I went to an Irish Pub for some nachos and more pints of beer.  I sat next to a nice Swedish couple, Jolene and Jeremiah, who were on their way to go backpacking all through South East Asia (minus Singapore).  I advised them to at least consider visiting Singapore for a couple days as I thought they would enjoy some of the different aspects there.  After conversing for almost two hours we exchanged information and parted ways.  It was time for me to go to my boarding gate.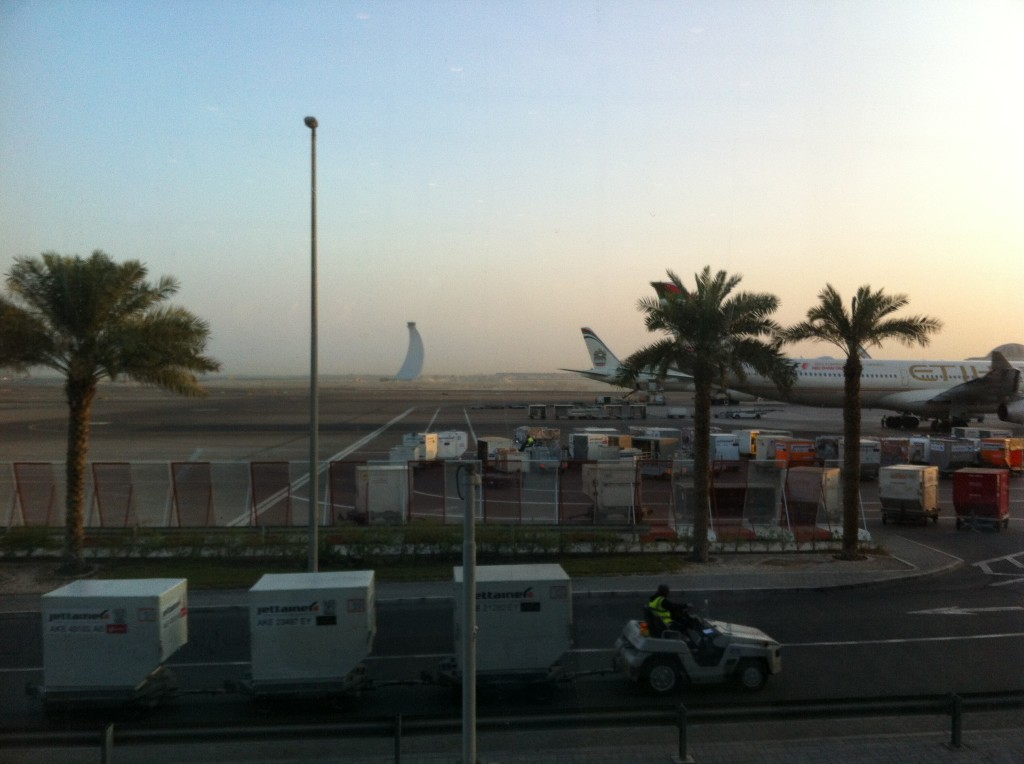 When arriving at the boarding gate a second round of security checks greeted me.  I was asked for my passport.  As soon as they saw it they asked me to go sit in the corner and told me some one would be with me shortly…
About 45 minutes later I was told I could proceed through security.  At this point my flight was 30 minutes from take off.  I went into a special line for my security check.  A line that did not move!  I was fully frustrated!  How would I make my flight?
[Phone confiscated – No picture here]
After about 30 minutes of standing in line I was finally processed through security.  My flight was scheduled to have taken off, but security officials promised me that my flight would not depart without me.  Could I really believe them?  After the last security guard got done patting me down and apologizing to me for making me wait… Well not so much of an apology… I believe his exact words were "Sorry… You do it to us.  We do it to you".  Fair enough, I guess.
Anyways, as promised, my flight was held for myself and two other individuals who were also held at the security checkpoint (1 American and 1 Australian).  We boarded and 20 minutes later we were in the air!  14 hours to New York!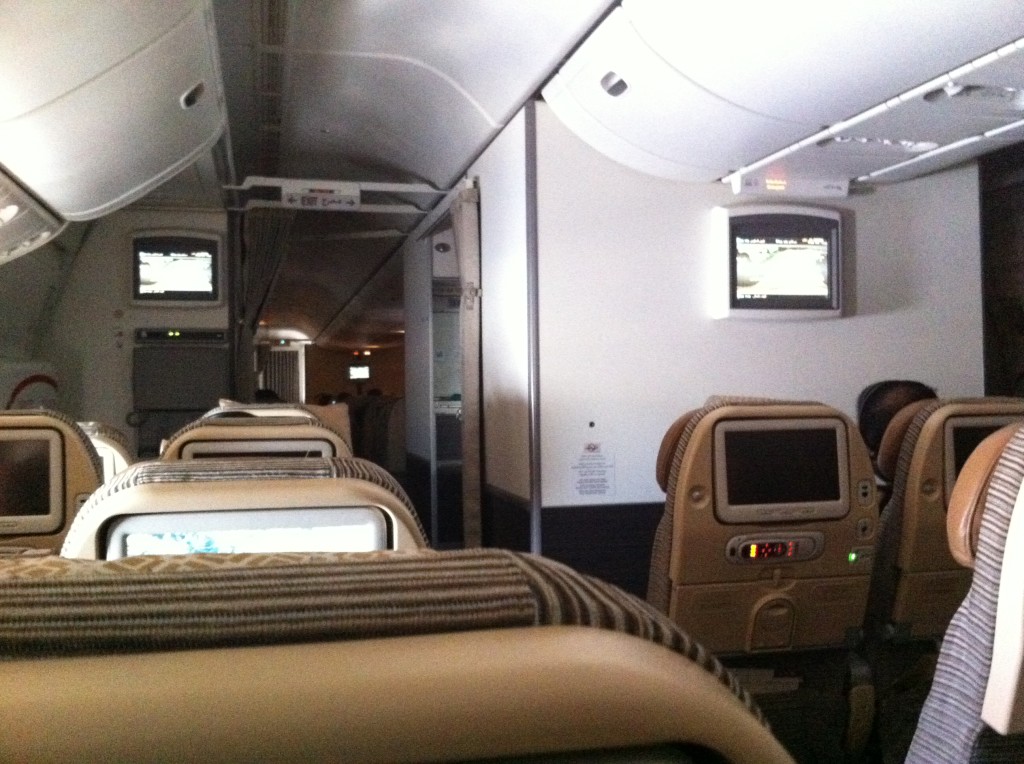 14 Hours is a long flight.  Its hard to even watch a movie knowing that when the movie is finished you will still need to watch 6 more until the destination is reached.  So what did I do?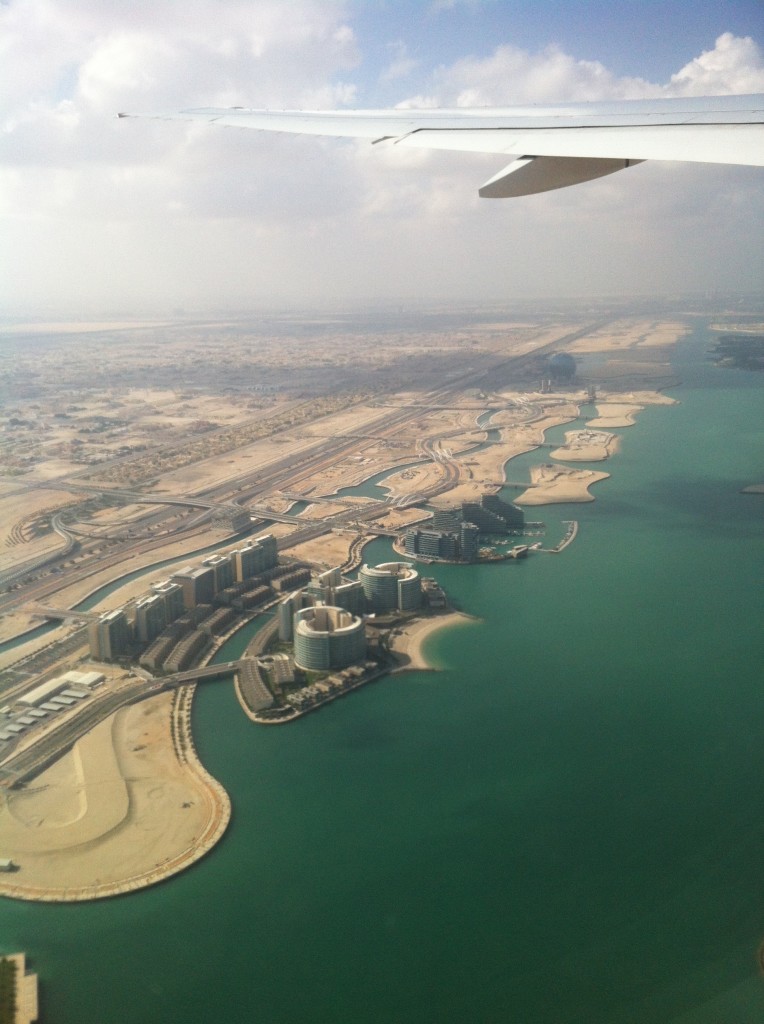 Repeated steps 1-3… Three times… Until I woke up the third time and was thirty thousand feet above US soil…  A longgg journey!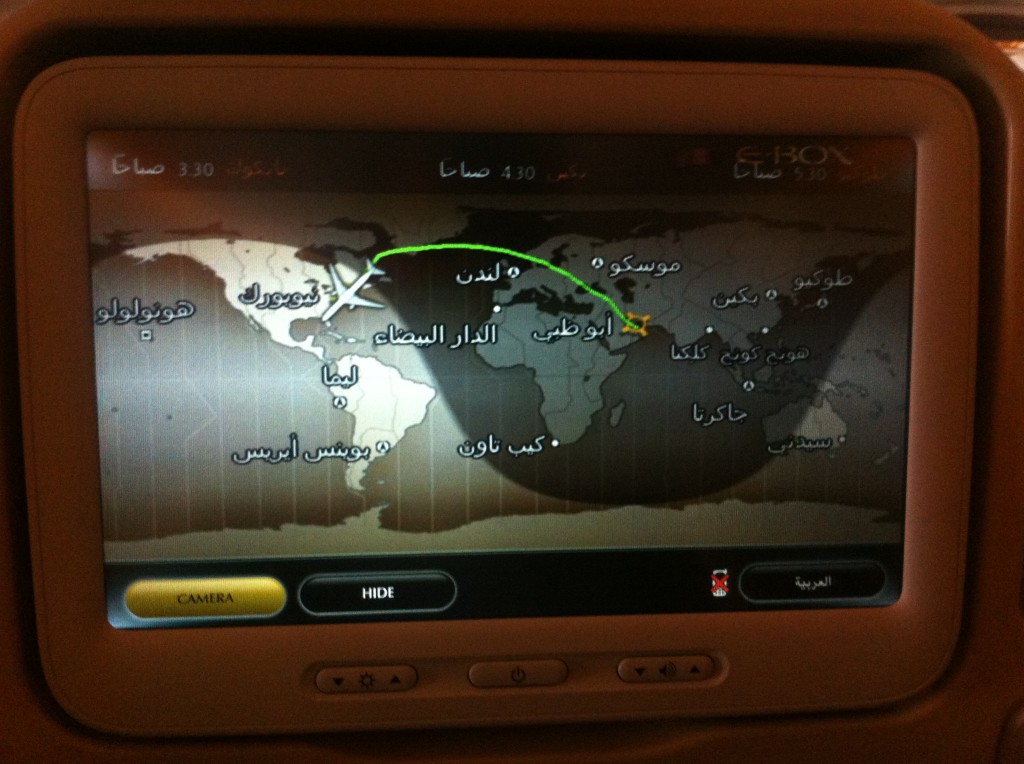 For the first time in 220 days I was back in New York!  My mom greeted me with a big hug at the arrival terminal.  I'm back!
Will I ever return to Singapore?  After all, I do still have one month left on my work contract.
Will my next new country I visit be Cambodia like I promised?
Stay tuned for my next update!